The first rooftop open-air bath in Dogo will heal your body and soul under the shining moon and stars.
This rooftop open-air bath, the first in Dogo, is what we are proud of. Basking in the warm water that has blessed Dogo since ancient times, you can relax quietly while indulging yourself in the bathtub and enjoying the view of Matsuyama Castle to the south and Mount Ishizuchi to the north.
Please enjoy the traditional hot spring in Dogo while looking out at the ever-changing scenery of Matsuyama and the garden.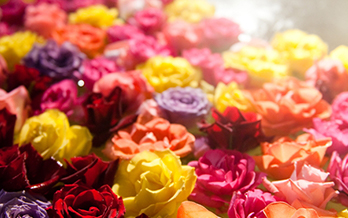 A relaxing hot spring under the sky will refresh you.
You can relax while looking at the ever-changing scenery: a blue sky in the morning, drifting clouds in the daytime, changing colors of the sky in the evening, and gentle moonlight at night.
- Open-air rose petal bath -
A rose petal bath on the rooftop is for ladies (every Fri., Sat. and Sun.) Please enjoy bathing in the gorgeous and fragrant hot water while looking up at the night sky.
*The rose petal bath may not be available depending on the weather.


You can feel comfortable in the gentle flow of time.
You can relax in the hot spring while looking out at Matsuyama Castle to the south and Mount Ishizuchi to the north.
Please enjoy the traditional hot spring while observing the townscape, the colors of the sky changing over time and the twinkling stars.

Bathing time

5:30 to 24:00
Capacity of the large bath

About 60 persons
Rooftop open-air bath

Hoshi-no-yu for gentlemen / Tsuki-no-yu for ladies
Capacity

About 20 persons. *You can go up from the large bath.
Water temperature

42 degrees Celsius
*Please note that you may feel hot or tepid depending on the season or outdoor temperature.
*At the bathroom, you can use shampoo/rinse, body wash, toiletries for men and women, dryers, combs, hairbrushes, and bath towels.
*Please use the bath towel provided in your room.

Please observe the bathing manners so everybody can use the bath comfortably.
Persons with tattoos are not permitted to bathe. Such persons should contact the staff.
Refrain from bathing with swimwear on or a towel around the body.
Wash yourself before getting in the bathtub.
Slowly drip the water on yourself to accustom yourself to the hot temperature.
Refrain from drinking and eating in the bathing area.
Drink enough fluid and rest after taking a bath. Cold water and sightseeing pamphlets are prepared in the observation lounge on the 10th floor.
See here about how to enjoy hot springs and bathing manners.